Cree Indian Laser Engraved Painted Paddle
$290.00
Cree Indian paddle
Name: Cree Indian Laser Engraved Painted Paddle (Panther and Smoking Rabbit, The Edge movie paddle)
Style: Beavertail Canoe Paddle
Full Size Paddle Length: 57 inch. Blade is 26 inches long by 6.25 inches wide
Wood Species: Cherry
Finish: Satin varnish
This is our version of the Cree Indian motif paddle. (The panther and smoking rabbit paddle). The legend is that the panther is on the hunt for his pray (the rabbit). The rabbit is smoking his pipe and is not concerned because he is smarter than the panther. This legend reminds us to be smart and not make mistakes when in the wild. The image of the panther is on one side and the image of the rabbit is on the other.
A similar paddle was featured in the 1997 movie The Edge with Anthony Hopkins and Alec Baldwin where an intellectual billionaire and two other men struggle to band together and survive after getting stranded in the Alaskan wilderness with a Kodiak Bear hunting them down.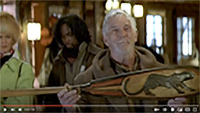 Now offering FREE SHIPPING on this product within the U.S.
Returns
You have 30 days from receipt of order to return your item. Shipping and Paypal fees will not be refunded.
---
Testimonials
I can't even tell you how much my brother LOVED his Cree Panther/ Smoking rabbit paddle. It was the highlight of the year at Christmas… we stayed up Christmas eve and watched  "The Edge" and I gave it to him right after the movie for maximum impact.
Thank you for the craftsmanship, it is not strictly decorative paddle at all and they live on the Swan river in Montana and will use it as well as display it in their home.
Thank you Thank you Thank you!
Hal
Billings, MT
_____
Rabbit smoking a pipe, The Cree Indian Paddle, The Edge movie paddle, The Edge rabbit smoking a pipe paddle, panther and rabbit oar, why is he unafraid, Panther and Rabbit

Additional information
| | |
| --- | --- |
| Weight | 4.12 lbs |
| Dimensions | 60 × 8 × 4 in |